---
---
Calibrated for sport, Six-Gun is a fully engineered diesel tuner with an unmatched combination of power, safety and versatility. It delivers pavement-shredding best gains of +115 hp and +206 lb-ft at the rear wheels; has six change-on-the-fly power levels; is Stacked for Power® to tune pulse width, timing and fuel pressure; and has exclusive AutoRate® and ActiveSafety® engine and transmission safeguards.
Easy Install
Loaded with Features
Value Priced
Destroys the competition, not your vehicle!
ActiveSafety protects engine/powertrain
Gain up to +115 hp, +206 lb-ft at rear-wheels
Optimum fuel tuning for awesome power
Temperature limiting control w/opt Temp Limit Kit 63055
Six-Gun Diesel Tuner, with selector
Emissions Compliant: D-161-93
---
Test Time
Test vehicle: 2003 Ford Extended Cab 2WD F350 Dually.
Engine: 6.0L Power Stroke.
Transmission: TorqueShift SR100 5-Speed Automatic.
Note: Six-Gun tests performed with Banks Six-Gun Bundle airflow improvements. Upgradeable options include Banks iDash and airflow components to build a complete engineered power system.
For best Six-Gun Tuner performance, Banks always recommends airflow improvements.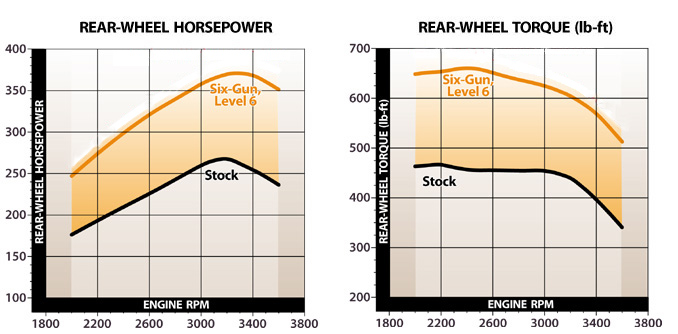 Six-Gun, Level 6
Stock
Banks
Improvement
Results
Rear-Wheel Horsepower:
Best gain
236.2 hp (3600 rpm)
351.3 hp (3600 rpm)
+115.1 hp
49% more
Rear-Wheel Torque:
Best gain
455.4 lb-ft (2400 rpm)
661.5 lb-ft (2400 rpm)
+206.1 lb-ft
45% more
Rear-Wheel Horsepower:
Peak-to-peak
268.7 hp
(3200 rpm)
370.0 hp
(3200 rpm)
+101.3 hp
38% more
Rear-Wheel Torque:
Peak-to-peak
467.0 lb-ft (2200 rpm)
661.5 lb-ft (2400 rpm)
+194.5 lb-ft
42% more
Acceleration, time:
1/8 mile
11.21 sec
10.17 sec
-1.04 sec
9% quicker
Acceleration, speed:
1/8 mile
67.9 mph
75.7 mph
+7.8 mph
12% faster
Acceleration, time:
1/4 mile
17.25 sec
15.70 sec
-1.55 sec
9% quicker
---