---
---
Remove airflow restrictions with complete intake and exhaust system plus advanced programming for up to +56 hp and +70 lb-ft, 7% more MPG and optimum engine efficiency.
Here's a major dose of new RV power without the new RV price! PowerPack delivers 26% more horsepower and torque to your V-10: up to +56 hp and +70 lb-ft at the rear wheels. Rockets you up 6% grades 12% faster and chops three seconds off your 0-60 mph time. With PowerPack's engineered intake and exhaust upgrades plus calibrated fuel tuning (optional), your rig will pass and merge a whole lot easier and more safely - and you'll get up to 7% more MPG , too!
Please note:
Fits all Fleetwood and National RVs except 2004 and up Powerplatform and Duraframe models.
Includes: AutoMind Programmer, Ram-Air Cold-Air Intake System, Ram-Air Oiled Filter, Air Filter Service Kit, TorqueTube Exhaust Manifold System, Monster Exhaust System, Extension Pipe, Chrome Tailpipe, Heatshield, Banks Power Urocal, CARB Decal, Includes all necessary hardware.
Remove airflow restrictions with complete intake and exhaust system
Optimizes airflow, air density, continuous power & MPG
Includes AutoMind with advanced programming
Honors the host vehicle & improves longevity
Gain

 

up to +56 hp and +70 lb-ft
7% more

 

MPG
CHROME tip
Emissions Compliant: D-161-116, D-161-105, D-161-80
US Patent #6,634,171 B1
---
Check out these photos from a PowerPack installation on a 2011 coach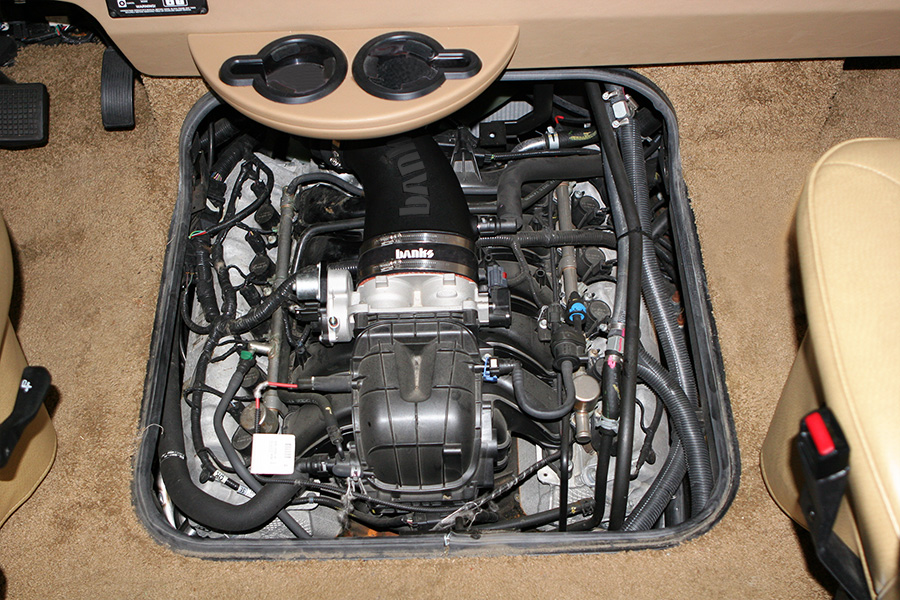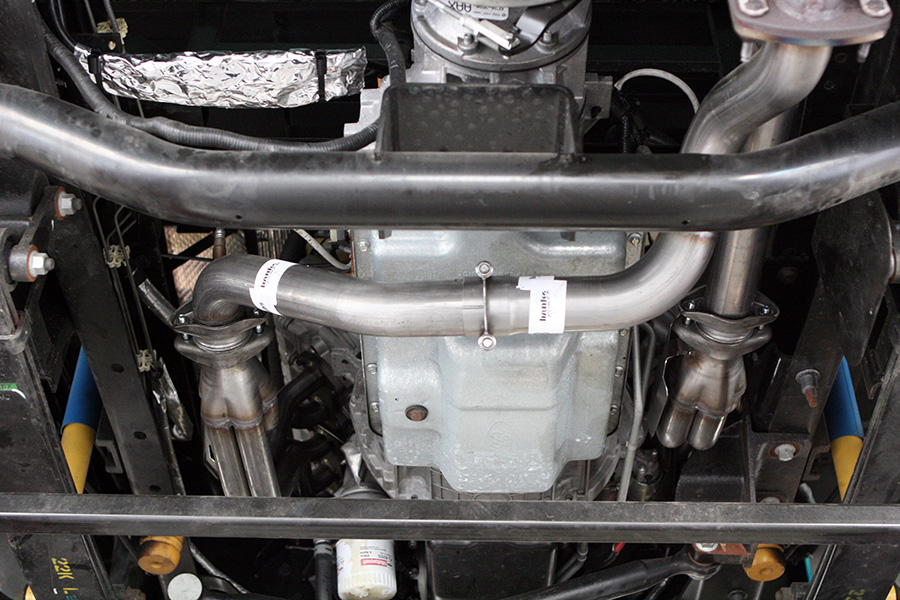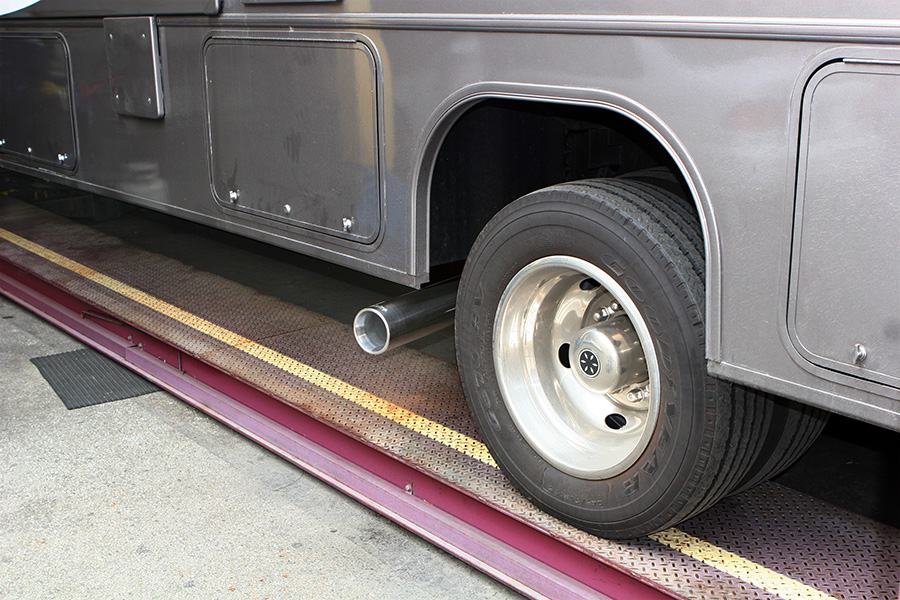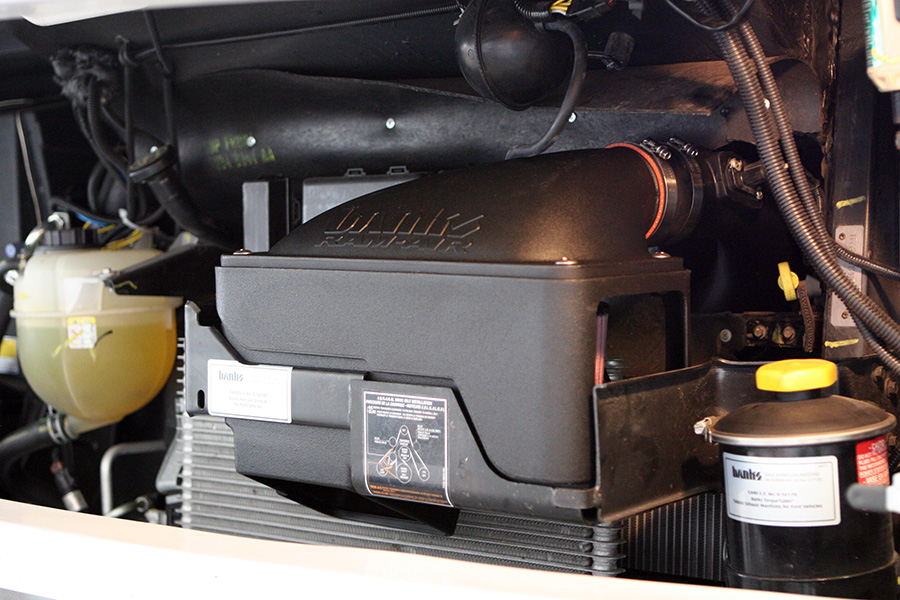 ---
Test Vehicle:
2006 Thor 4-Winds Motorhome equipped with a 6.8L 30-valve Triton V-10 engine. While the engine is rated by the factory at 362 hp, on the dyno the stock best gain was only 242 hp.
Horsepower and torque measured at rear wheels.
Power @ Rear Wheels
Stock Motorhome
Banks PowerPack
Improvement
Result
Horsepower, best gain
216.3 hp
(4200 rpm)
271.9 hp
(4200 rpm)
+55.6 horsepower
26% more
Torque, best gain
270.5 lb-ft
(4200 rpm)
340.0 lb-ft
(4200 rpm)
+69.5 horsepower
26% more
Horsepower, peak-to-peak
242.1 hp
(5000 rpm)
284.9 hp
(4800 rpm)
+42.8 horsepower
18% more
Torque, peak-to-peak
316.5 lb-ft
(3000 rpm)
360.6 lb-ft
(3600 rpm)
+44.1 lb-ft torque
14% more
Acceleration, 0-60 mp
24.20 sec
21.28 sec
-2.92 sec
12% quicker
Acceleration, 40-60 mph
12.00 sec
10.36 sec
-1.64 sec
14% quicker
Hillclimb speed, 6% grade
52 mph
(4th gear)
58 mph
(5th gear)
+6 mph
(+1 gear)
12% faster
Fuel economy
7.20 mpg
7.73 mpg
+0.53 mpg
7% better
---
Banks' streamlined, stainless steel TorqueTubes (shown below compared to the stock headers) are the industry's only parallel 5-tube exhaust manifolds for RVs. Unlike competitors who add a separate tube length to a 4-tube formation, Banks integrates five tuned-length tubes into a design that allows rotational firing of the cylinders through the exhaust, minimizing backpressure and maximizing torque. The thick, 5/8-inch flanges never warp or leak.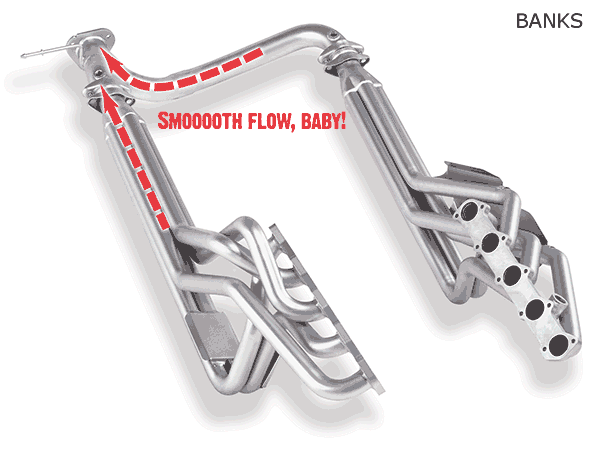 Not for sale/use in California *
---