---
---
The Ultimate Power System for Towing & Work
1999-2004 6.8L SUPER-DUTY PICKUP: Banks has the formula for building V-10 muscle: the stainless-steel PowerPack adds best gains of +56 hp , +67 lb-ft torque, and 7% more miles to the tank-full. A pair of bulletproof TorqueTube manifolds uncorks major torque for big hauling and climbing jobs. Add Banks optional electronic AutoMind engine-calibration module maximizes power while keeping a stern check on the air-to-fuel ratio, for safe exhaust temperatures and engine longevity.
Optimizes airflow, air density, continuous power & MPG
Honors the host vehicle & improves longevity
Best gains:

 

+56 hp and +67 lb-ft

 

(rear wheel)
7% more

 

miles per fill-up
BLACK tip / CHROME Tip
Emissions Compliant: 49 State
US Patent #8,468,812 B1
---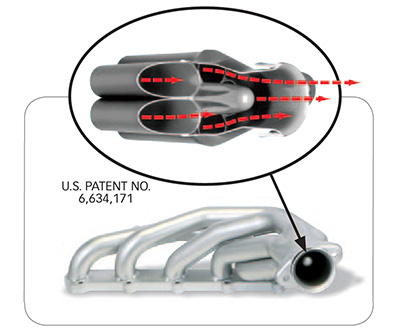 PowerPickle®
Banks invented a ballistic flow device to overcome the problem that occurs where tubes join within a single collector; a "dead zone" that kills exhaust-gas velocity. The patented PowerPickle fills that void and utilizes the rotational firing order to maximize exhaust extraction. This detail-exclusive to Banks-captures exhaust-gas action and turns it into massive torque.
---
A look at the stock Y-pipe clearly shows the Banks advantage: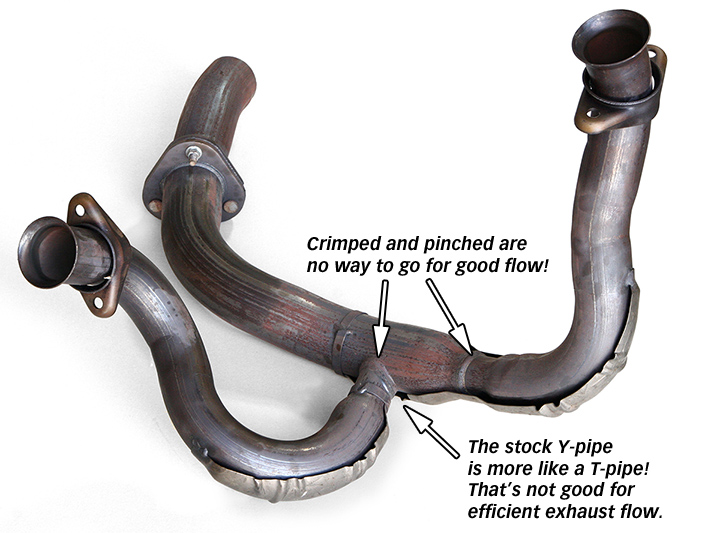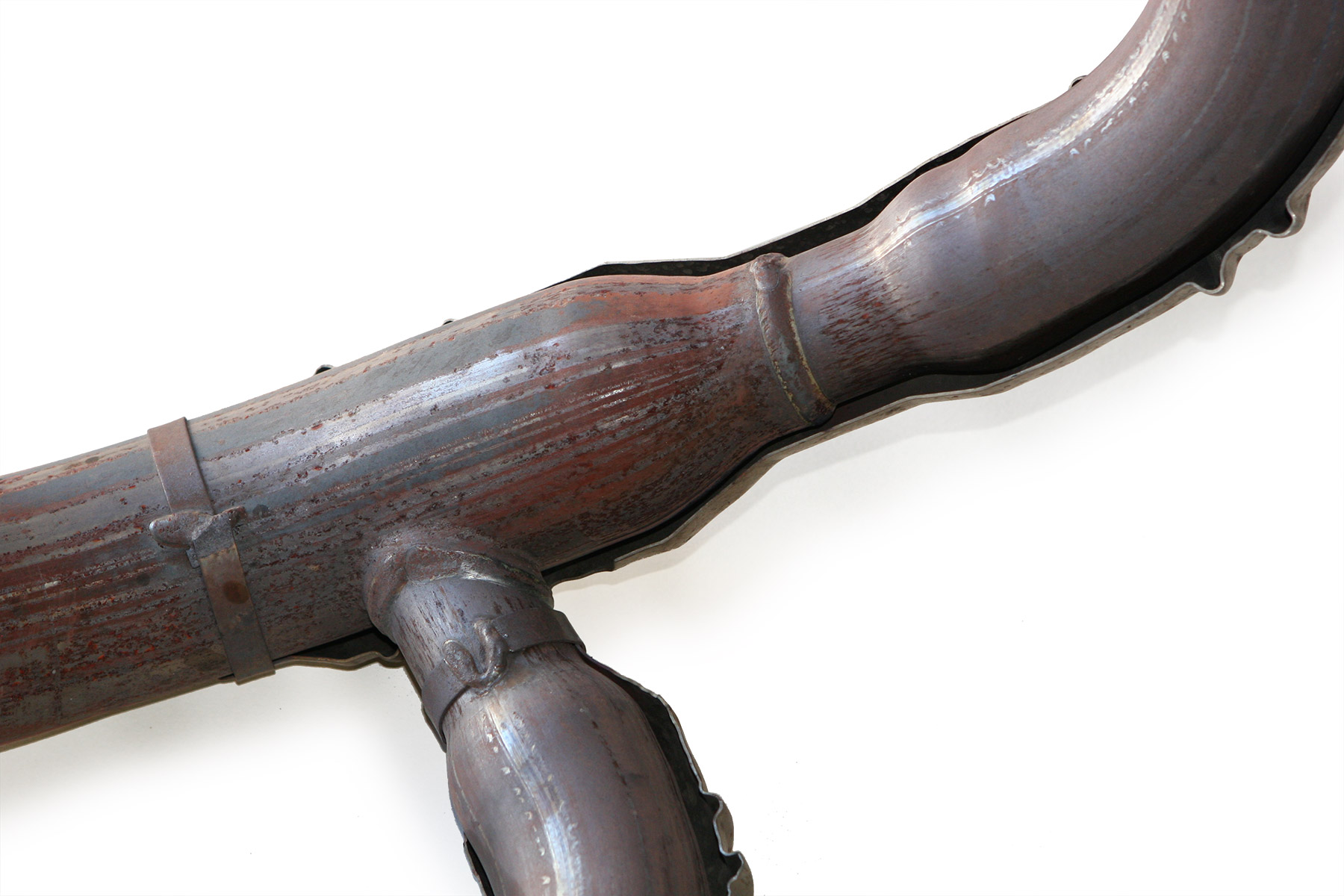 ---
Vehicle is EGR-equipped ('99 models only) if there is a large hex fitting connecting steel tube to exhaust manifold on driver's side.
To identify type of catalytic converter , locate flange between Y-pipe and cat converter:
Early style cat converter --flange behind transmission cross-member
Late style cat converter --flange in front of transmission cross-member
Systems do not fit 2005 (3-valve) vehicles --designated by a "V" in the 8th position of the VIN number.
---
Testing
Gasoline: 6.8L (V-10), '99-05
Test vehicle: 1999 Ford F-350 crew cab dually • 6.8L Triton V-10 • 4R100 4-speed automatic • 4.10 rear axle ratio • 7500 lbs solo weight • 20,000 lbs combined towing weight.
Horsepower and torque measured at rear wheels.
| PowerPack® System with AutoMind | Stock | Banks | Improvement | Results |
| --- | --- | --- | --- | --- |
| Horsepower, best gain | 192.7 hp (4400 rpm) | 248.6 hp (4400 rpm) | +55.9 horsepower | 29% more (4400 rpm) |
| Horsepower, peak-to-peak | 197.0 hp (4200 rpm) | 248.6 hp (4400 rpm) | +51.6 horsepower | 26.2% more, peak-to-peak |
| Torque, best gain | 230.0 hp (4400 rpm) | 296.7 hp (4400 rpm) | +66.7 lb-ft. torque | 29% more (4400 rpm) |
| Torque, peak to peak | 270.7 lb-ft (2600 rpm) | 323.2 lb-ft (2600 rpm) | +52.5 lb-ft torque | 19.4% more (2600 rpm) |
| Horsepower, upshift point | 180.0 hp (4800 rpm) | 233.0 hp (4800 rpm) | +53.0 horsepower | 29.4% more (4800 rpm) |
| Torque, downshift point | 269.5 lb-ft (2800 rpm) | 322.2 lb-ft (2800 rpm) | +52.7 lb-ft torque | 19.6% more (2800 rpm) |
| Solo acceleration, 0-60 mph time | 10.38 sec | 8.50 sec | -1.88 sec | 18.1% quicker |
| Solo acceleration, 40-60 mph time | 5.60 sec | 4.45 sec | -1.15 sec | 20.5% quicker |
| Towing acceleration, 0-60 mph time | 26.74 sec | 21.47 sec | -5.27 sec | 19.7% quicker |
| Towing acceleration, 40-60 mph time | 15.14 sec | 11.76 sec | -3.38 sec | 22.3% quicker |
| Fuel economy, towing | 7.20 mpg | 7.73 mpg | +0.53 mpg | 7.4% better fuel economy |
| Hill-climb maximum speed, (towing) | 49 mph (2nd gear) | 56 mph (3rd gear) | +7 mph | 14.3% faster (+1 gear) |
| PowerPack System | Stock | Banks | Improvement | Results |
| --- | --- | --- | --- | --- |
| Horsepower, best gain | 192.7 hp (4400 rpm) | 241.9 hp (4400 rpm) | +49.2 horsepower | 25.5% more (4400 rpm) |
| Horsepower, peak-to-peak | 197.0 hp (4200 rpm) | 241.9 hp (4400 rpm) | +44.9 horsepower | 22.8% more, peak-to-peak |
| Torque, best gain | 230.0 hp (4400 rpm) | 288.7 hp (4400 rpm) | +58.7 lb-ft torque | 25.5% more (4400 rpm) |
| Torque, peak to peak | 270.7 lb-ft (2600 rpm) | 310.7 lb-ft (2600 rpm) | +40.0 lb-ft torque | 14.8% more (2600 rpm) |
| Horsepower, upshift point | 180.0 hp (4800 rpm) | 223.0 hp (4800 rpm) | +43.0 horsepower | 23.9% more (4800 rpm) |
| Torque, downshift point | 269.5 lb-ft (2800 rpm) | 309.9 lb-ft (2800 rpm) | +40.3 lb-ft torque | 15% more (2800 rpm) |
| Solo acceleration, 0-60 mph time | 10.38 sec | 8.79 sec | -1.59 sec | 15.3% quicker |
| Solo acceleration, 40-60 mph time | 5.60 sec | 4.63 sec | -0.97 sec | 17.3% quicker |
| Towing acceleration, 0-60 mph time | 26.74 sec | 22.28 sec | -4.46 sec | 16.7% quicker |
| Towing acceleration, 40-60 mph distance | 15.14 ft | 12.28 ft | -2.86 ft | 18.9% less distance |
| Fuel economy, towing | 7.20 mpg | 7.65 mpg | +0.45 mpg | 6.3% better fuel economy |
| Hill-climb maximum speed, (towing) | 49 mph (2nd gear) | 55 mph (3rd gear) | +6 mph | 12.2% faster (+1 gear) |
---