---
---
Superior to stock, everything about Banks Techni-Cooler Intercooler system is bigger. It includes mandrel-bent  3.5"  high-flow boost tubes ... large, high-efficiency all-aluminum end tanks ... a wide-open inlet and outlet ... a  20%  thicker core area with a  27%  improvement in volume ... and a colossal super-flow  Monster-Ram intake manifold  .
Techni-Cooler dramatically increases the cooling capacity by balancing the richer fuel mixture with greater airflow and cooler, denser air. Denser air has more oxygen, which improves combustion as well as engine efficiency. Result: higher continuous power and more power at any exhaust gas temp (EGT), better fuel economy and lower EGTs. That's a truckload of benefits! Banks Techni-Cooler delivers the maximum reduction in boost air temperature with a minimal loss of boost pressure. It doesn't get any cooler than Techni-Cooler! Mounting hardware included.
Improves Power, Durability & Fuel Economy
Dramatically increases air density
Cooler EGTs, more MPG & constant-duty power
High-efficiency custom-machined durable cast end tanks
Wide-open inlet and outlet
Reduces boost pressure loss
Maximizes Boost Air
Lowers exhaust gas temps
Packs cool, dense air into the cylinders
Lower restriction for superior flow
2-year Warranty
Thicker core with 27% more flow volume
Large 3-1/2 inch boost tubes, superior aluminum end tank design
Includes Monster-Ram intake.
Increases air density for higher continuous power.
Emissions Compliant: D-161-82
---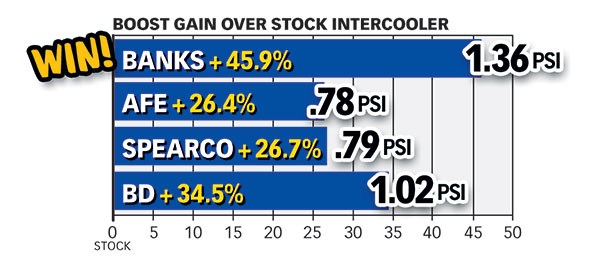 BOOST INCREASE OVER STOCK
This is the first measure of intercooler performance. If an aftermarket product can't deliver a boost increase over the stock unit, there's no point in even opening the box. All the units tested better than stock with Banks the clear winner... So far, so good.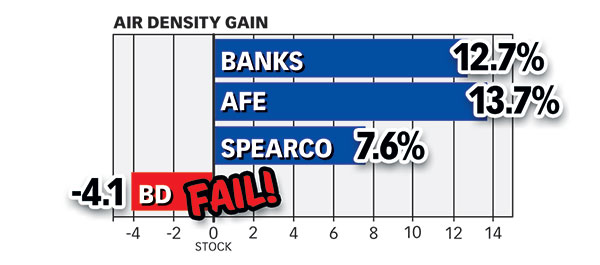 AIR DENSITY INCREASE
This is the reason for an intercooler in the first place. Boosted air that's colder packs more oxygen. Cooler intake air and more oxygen lowers EGT's, improves economy and unlocks your fuel's power making ability. Measuring air density gain over stock is the most vital aspect of intercooler performance. This is where the Banks patented density measurement comes into play. Banks and AFE are both in the game but BD cooled so poorly that it actually lost density... WRONG!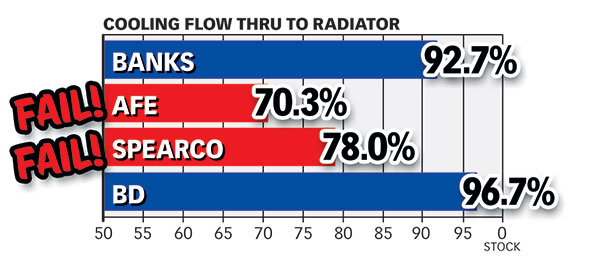 AIR FLOW-THROUGH TO THE RADIATOR
If an intercooler blocks your engine's radiator from the incoming airflow it needs, the resulting high temps cause the ECM to cut back fuel, leaving you with de-rated power and heat-related breakdowns. The point is to improve your vehicle's performance, not cripple it. Spearco and AFE's bar and plate cores block so much air to your radiator that it's like putting cardboard in front of it. That's a fail for both.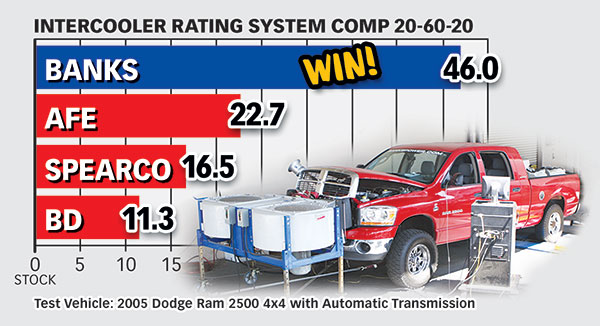 FINAL RESULTS
The final rating sums the three results above with a weighing of 20% for boost gain, 60% for density improvement and 20% for air flow-through to the radiator. When you add up the results of these tests it's easy to see why Banks comes out way ahead: the Banks Techni-Cooler will produce quicker throttle response, higher continuous power at any exhaust gas temperature, better economy and a more reliable rig. All benefits and no compromises.
---