---
---
Banks Ram-Air Superiority.
Improves airflow for more horsepower and torque.
The all-new Banks Ram-Air Intake for Ford 7.3L Power Strokes delivers everything you really want out of your diesel: power, agility, and fuel economy. It's always been about airflow and with the Ram-Air Intake, it starts right up front. Ram-Air bolts on in minutes and requires zero modification. It's designed to feed your 7.3L more cool, dense air than it's ever seen. Thanks to its added HP and torque, you'll feel the difference the moment you hit the throttle. Killing the stock intake and crushing the competitors, it's the perfect upgrade for anyone looking for maximum performance. Whether you haul horses, a fifth wheel, or just want to haul-ass, Ram-Air is for you!
Ram-Air Cold-Air Intake System, Dry Filter for use with 1999-2003 Ford 7.3L
Enclosed housing keeps out hot, power-robbing engine air
Inhales cooler outside air for more power & MPG
Impressive power gains up to +16 hp and +32 lb-ft
Extends service life and requires fewer cleanings
Easy filter access for monitoring and cleaning.
Giant filter maximizes high-flow filtration
Accommodates engine movement
Extensively tested & validated
Prevents component damage
Helps engine run cooler
5-year Limited Warranty
DRY Air Filter Element
Emissions Compliant: D-161-118
US Patent #10,138,851 B2
A COLD AIR INTAKE IS SUPPOSED TO DELIVER COLD AIR
That should go without saying, right? With our competitors' intakes you can't be so sure. They all look nice... but do they really deliver cooler air to your engine and bring the power and mileage gains you thought you were paying for? Not according to our testing.
Your engine doesn't need decoration, it needs density. The ugly truth is that every competitive "cold air" intake system we tested actually delivered hotter intake air temps than the stock system. They all flowed somewhat better but without cooler air, all the flow in the world ends up being meaningless. Cool air = density. Density = more HP & torque, better fuel economy, and overall better performance.
The real deal. You're out for maximum performance and so are we. The Banks Ram-Air Intake System brings the flow as well as the density.
That means you'll have the muscle to the job done, whatever it may be. And, it bolts on in minutes. Best of all, Ram-Air delivers what your hard-earned dollar deserves: true engineering, real performance, and actual value.
Banks Intake
Enclosure helps draw in cooler air. The competitors like to talk about flow but they get a little uncomfortable when you ask them about density. Intake Density is cool air and rich oxygen content, and that spells power. Good flow means nothing if you're just pumping your engine full of hot air. Some of our competitors' intake systems result in hotter air inlet temperatures than stock!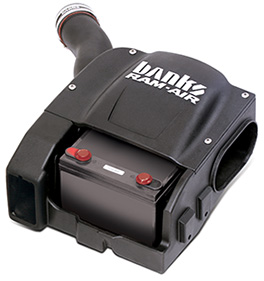 ---
AFE Intake
Open and exposed design pulls in hot engine air, resulting in poor density. Cheap metal battery tray highly prone to rust and corrosion.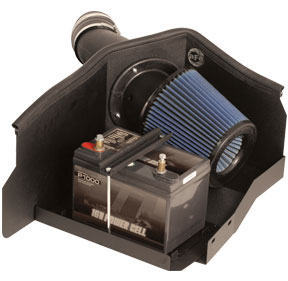 ---
Airaid Intake
Virtually identical to the AFE ? no-housing design means instead of cold air, your engine gets only hot, stagnant air. Cheap metal battery tray highly prone to rust and corrosion.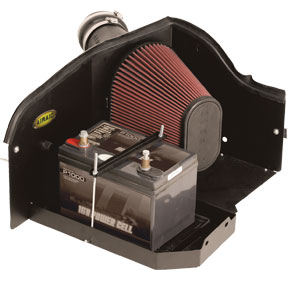 ---
S&B Intake
Enclosed design but seals very poorly. A large hole in the bottom sucks in very hot air directly above the exhaust manifold. Worst of all competitors in both flow and temperature.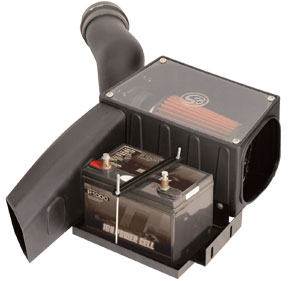 ---
Volant Intake
Visually displeasing design that does not match the performance or quality of the Banks Ram-Air. Cheap metal battery tray highly prone to rust and corrosion.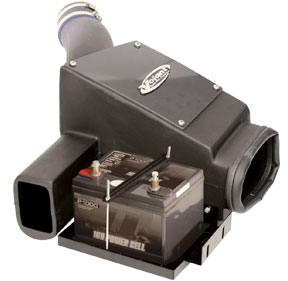 ---